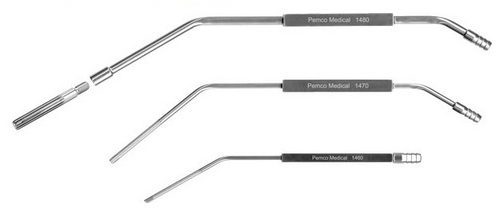 The Pemco Intracardiac Suckers are a reusable hand held instrument.
They are supplied non-sterile and must be cleaned and sterilized prior to initial use and all subsequent uses.
Intracardiac Suckers manufactured by Pemco Inc. are designed to be used in cardiovascular surgery but may be used for other surgical procedures were suction of fluids is desired.
One end of the sucker handle is barbed for suction line and the other end is threaded either for interchangeable tips or as supplied with a non-removable tip.
The Intracardiac Suckers are a hand held instrument. The handle is bent in such a way that they can lie across the chest cavity. When the instrument is in this position a means of attaching to the O.R. table drape must be used.
The tips of the Intracardiac Suckers, either fixed or removable, have  qually divided slots at the tip end to prevent clogging and improve suction.
After probes have been sterilized, securely attach desired tip to handle if applicable. Attach tubing to barbed end of sucker handle.
Intra Cardiac Suctions, Non-Disposable Subcategories
Intra Cardiac Suctions, Non-Disposable Products