Product Description
Ordering number breakdown:
1580-A-5-5mm-75 Base Number: 1580 Handle Type: A, P, F or T<br. Tip Style: 5, Swivel Tip with cross holes Tip Size: 5 mm Stem: 75° Bend
514
Four Standard Sizes, Style #5, Swivel Tip
Tip Style 5, 5mm
Tip Style 5, 4mm
Tip Style 5, 3mm
Tip Style 5, 2mm
Pemco Perfusion Cannulas—Swivel Tip #1580-Style 5
1580-A-05-5MM-75
1580-A-05-4MM-75
1580-A-05-3MM-75
1580-P-05-2MM-75
Pemco reusable cannulas are precision crafted from stainless steel and are available in FIXED or LEAK PROOF SWIVEL styles. All swivel tips come standard with the 75 degree bend in the handle Tip styles are matched with customized handle configurations. (See perfusion handles section of the store) The most popular handle styles are either "A" Adult Flat or "P" Pediatric Flat. Handle specs with attached tip are listed in teh full catalog. Contact a representative or call our main office if you have any questions. Pemco cannulas can be sterilized with standard processes Long product life offers significant cost savings over disposables Refurbishing extends product life and provides additional cost savings.
Related Products: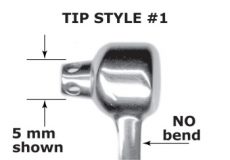 1580 Fixed tip, Style 1 with choice of handle
Pemco reusable cannulas are precision crafted from stainless steel and are available in FIXED or LEAK PROOF SWIVEL styles. Tip styles are matched with various handle configurations. (See perfusion handles section of the store) The most popul [...]
<< return to products